8 Ways Tech Is Changing Fashion Retail
Share
Segment
from the ecosystem
Tech is making fashion a little less based on instinct, and a little more based on numbers. However, it'll always be that small room in a magazine office determining what colour blue you wear
Store Design: Offline supporting online
The humble brick-and-mortar store is slowly becoming a support service for online stores, giving customers the opportunity to try clothes in person. This can be seen in the rise of the pop-up store, which is a movement that has exploded in the past 5 years. Companies have used data to assess where and when would be the best to have pop-up stores and are using them as publicity machines for online stores, and trials for bringing stores to have brick-and-mortar presence in another country.
Online stores have also established an offline presence in brick-and-mortar.
One example is Shoes of Prey, which allows women to design and customise their own upmarket heels.
Jodie Fox says "Our online customers always asked us, 'what will my shoes look like in real life?". "When we dug into this query, we began to understand that they wanted to understand how the shoe fitted, how the leathers felt and if their design would look good. We could solve all of these things with an offline presence."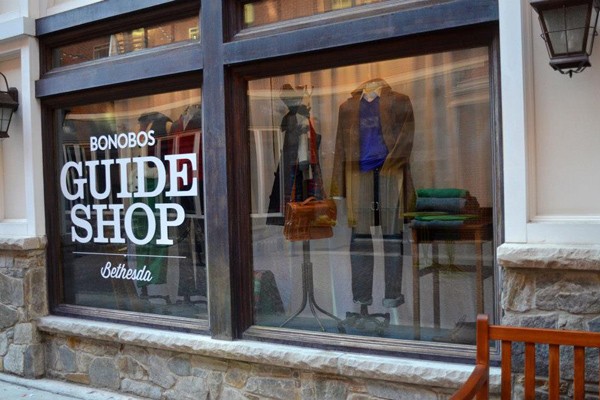 Bonobos, an online pants retailer, has stores which are merely used as fitting rooms, so customers can try on products before they buy them, but not have to have the hassle of carrying them home. They can just buy them online and have them delivered.
Ibisworld senior industry analyst Ryan Lin says "Physical shops are able to stock the most popular items while directing store customers to their online channels for more specialised or niche product offerings".
"New delivery methods such as 'click and collect' are anticipated to become increasingly popular, especially for time-poor consumers that have the option of picking up their purchased goods at a time convenient for them."
Store Design: Online supporting Offline
Up to 90% or purchases are still made in stores–but at least 60% of these purchases are influenced by the web. Many people took at products online and then buy them in person, while others look in person and find a cheaper alternative online.
Facial recognition enabled makeup apps are modifying the consumer buying process, making it process to buy without trying with confidence.
Store Design: Virtual reality
At this stage, VR mirrors are a very immature concept, and have only released as trials in different forms in flagship stores of different stores around the world.
In partnership with eBay, Microsoft has been outfitting Rebecca Minkoff stores with interactive touchscreen mirrors that allow shoppers to order items to be delivered to dressing rooms along with a drink of choice. Uri Minkoff said that the enhanced fitting rooms have both increased customers' time spent in stores and boosted clothing sales since the store opened. 30 percent of customers who try things on request, via the fitting room's touch screen, for additional items to be brought in by an associate.
Rigby and Peller's, a luxury British lingerie brand, is also considering using VR mirrors. Their flagship store in Hong Kong has incorporated cutting-edge 3D scanning mirror, hoping to address a long-standing problem for women: finding the right bra size.
The mirror is capable of taking accurate measurements of a customer's bust in no more than a minute. This is intended to supplement the ordinary way of tape measuring by shop assistant who then 'recommends the most suitable styles and colours for each figure and shape'.
It has already been proven to improve consumer experience. Not only it will reduce the time choosing the right one, but also increase the sales (apparently 90% of clients who took 3D measurements end up purchasing).
Trend-watching: Big Data
Sentiment analysis of responses to fashion photos, which include likes, shares, retweets and comments, allow companies to determine what's in, what's out, and why.
EDITD has 53 billion data points, stored in memory through 120 servers, encompassing hundreds of terabytes of data. Within this data is photos, and information about millions of products from tens of thousands of retailers over a significant amount of time, as well as trend reports from news-sites, and fashion blogs. Raw data is provided to customers, as well as real time analytics.
This means that industry professionals no longer need to do competitive shopping to research the competition.
Styling: Communications Apps & Fashion Blogs
Customers are reading fashion blogs and looking at Youtube videos before making purchases. Rewardstyle, an affiliate marketing company, expected to drive $175 million in sales to their retail partners from their blogger promoters. Kat Tanita, of With Love from Kat, made half her annual income in 2015 from affiliate marketing. Yet others take a look online and then buy offline.
Other methods include the humble selfie. Customers take photos of themselves with clothing they are thinking of buying so they can get more reliable feedback from friends & family about whether they should buy.
Polyvore was the start of community-sourced styling, and it's spawned a trend. There are now 12 on app stores.
Styling: CRM
Customer Relationship Management tools are being taken to the next level.
Luxury stores like Moda Operandi and NET-A-PORTER are creating Customer Relationship Management systems designed for the fashion world, with enabling them to bring the Personal Shopper experience usually only available on a long-term basis to HNW individuals to their general customers. Moda Operandi is using the increased efficiency of their CRM to create a new kind of stylist that can help 300 clients a year, rather than 50 to 75.
Customer Service: Big Data
Personalised customer service is becoming easier than ever due to digitalised information collection of the sales process. There are many ways it's being used to improve customer service provision in the fashion industry.
iBeacon is an Apple facial recognition technology. Combined with an app that cross references with data about customers, it can become a powerful customer service tool. Neiman Marcus, an American luxury department store, uses it to provide a more personalised experience to regular customers.
Abeja takes demographic information of customers and creates heat maps to determine where shoppers spend the most time, enabling merchandisers to further refine the in-store experience.
Tate & Tonic curates fashion recommendations based on a customer's purchase data as well as social media profiles.Their hope is it will increase LTV due to an increased ability to determine what would be appropriate to on-sell and upsell.
Fit-tech: Big Data
One of the great opportunities of data science in fashion is the ability to segment the market in new ways—not just by demographics and geography, but also by size and body type. Most startups are now using data about height, weight, and basic measurements, at the very least.
ITC Infotech's Style Performance Analytics (SPA) analyzes past data based on popularity and help user predict consumer preferences. Established brands Prada, Nordstrom, United Colors of Benetton, Bulgari, Puma and Diesel, as well as startups Stitch Fix, True&Co, ThreadMason, Stantt have been using this and similar services to improve fit.
The Clothing Itself: Wearables
Wearable tech is changing the purpose of clothing, from merely items meant to warm, maintain public decency and display personal identity to garments that can tell users about how they interact with the world and their health.
The Clothing Itself: 3D/Lasercut
Over the past decade, Laser-cut fashion has gone from being the preserve of haute couture to something you can buy from Topshop for $100.
Kate Hudson's 3D printed dress at the 2016 Met Gala is a great example of 3D printed fashion moving from concept pieces to wearable clothing. It was even designed by Atelier Versace! 3D printing is currently only consumer ready for the accessories market. Under Armour has just released limited edition 3D printed shoes
We're eager to see what happens next! Watch this space!
---
Coder Academy is the most loved Australian Coding Bootcamp provider according to Course Report. Our accredited coding Bootcamps will set you up for a new career in tech via our Fast Track Bootcamp or our Flex Track Bootcamp . Our immersive courses help students acquire in-demand skills through hands on, project-based training by industry educators and experts.
Now enrolling | domestic & international students in Sydney, Melbourne & Brisbane! Study now, pay later with FEE-HELP!